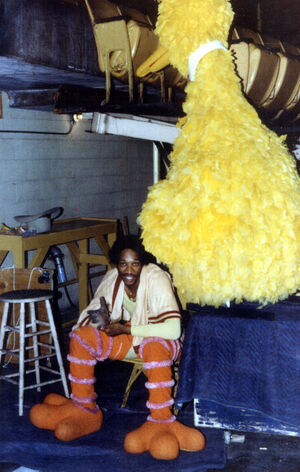 Lionel Douglass is an actor and dancer who played Big Bird in the Sesame Street Live tours for six years, beginning with the 1980 A Sesame Street Mystery: The Case of the Missing Rara Avis (where he also played a constable). He studied with Kermit Love and Caroll Spinney to ensure a relative faithfulness to the TV Big Bird. In 2005, he published a memoir about his experiences as the bird, Feathers of Color.
Douglass' acting credits include appearances in such films as Lethal Weapon 2, Sgt. Pepper's Lonely Hearts Club Band, Angels in the Outfield, Operation Dumbo Drop, and Beloved.
External links
Ad blocker interference detected!
Wikia is a free-to-use site that makes money from advertising. We have a modified experience for viewers using ad blockers

Wikia is not accessible if you've made further modifications. Remove the custom ad blocker rule(s) and the page will load as expected.