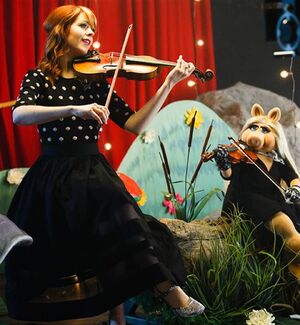 Lindsey Stirling (b. 1986) is a violinist and YouTube star with over 6½ million subscribers to her channel. She gained attention for her fanciful choreography while playing violin in her music videos.
On May 7, 2015, the Muppets appeared on her channel in a music video for "Pure Imagination" with Josh Groban. In it, Kermit the Frog is directing the video while Miss Piggy thinks she's playing violin. (YouTube)
Ad blocker interference detected!
Wikia is a free-to-use site that makes money from advertising. We have a modified experience for viewers using ad blockers

Wikia is not accessible if you've made further modifications. Remove the custom ad blocker rule(s) and the page will load as expected.