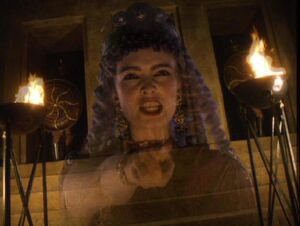 Lindsay Duncan (b. 1950) is a Scottish actress who played Medea in The StoryTeller: Greek Myths episode "Theseus and the Minotaur". A trained Shakespearean actress, Duncan's stage work includes a Tony Award-winning turn in the 2002 Broadway revival of Private Lives.
In television, Duncan has guest starred on The New Avengers, Spooks, and Poirot, and was a regular on the HBO series Rome as Julius Caesar's lover Servilia. She also appeared in such mini-series as Reilly, Ace of Spies and Traffik. Her film credits include the voice of the droid TC-14 in Star Wars Episode 1: The Phantom Menace and dual roles in the 1996 version of A Midsummer Night's Dream (as Titania and Hippolyta) and the 1999 adaptation of Jane Austen's Mansfield Park (as Mrs. Price and Lady Bertram).
External Links
Ad blocker interference detected!
Wikia is a free-to-use site that makes money from advertising. We have a modified experience for viewers using ad blockers

Wikia is not accessible if you've made further modifications. Remove the custom ad blocker rule(s) and the page will load as expected.