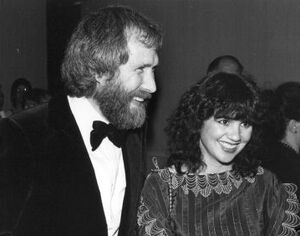 Linda Ronstadt (b. 1946) is a Grammy award-winning singer. Her film credits include starring in the Joseph Papp production of Gilbert and Sullivan's The Pirates of Penzance.
Ronstadt appeared as the guest star in episode 523 The Muppet Show, where she and Kermit the Frog share a mutual attraction for each other. The two reuinited years later for a duet of "All I Have to Do Is Dream" on the Kermit Unpigged album.
She also appeared in a pair of Sesame Street inserts, including singing "Y Andalé" with a mariachi band (EKA: Episode 2487) and "La Charreada" with Elmo.

External links
Ad blocker interference detected!
Wikia is a free-to-use site that makes money from advertising. We have a modified experience for viewers using ad blockers

Wikia is not accessible if you've made further modifications. Remove the custom ad blocker rule(s) and the page will load as expected.