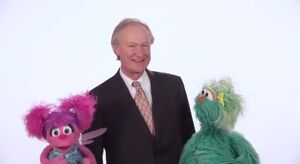 Lincoln Chafee (b. 1953) is an American politician from Rhode Island who has served as the mayor of Warwick, RI, in the United States Senate, and as the Governor of Rhode Island. In 2015, he sought nomination to be the Democratic candidate in the 2016 presidential election but withdrew prior to the primaries.
In 2014, Chafee appeared alongside Abby Cadabby and Rosita in a PSA for Sesame Workshop's "Healthy Habits for Life" campaign. (video)
Ad blocker interference detected!
Wikia is a free-to-use site that makes money from advertising. We have a modified experience for viewers using ad blockers

Wikia is not accessible if you've made further modifications. Remove the custom ad blocker rule(s) and the page will load as expected.