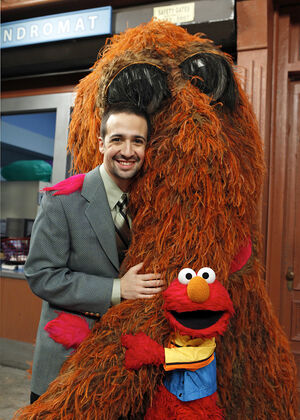 Lin-Manuel Miranda (b. 1980) is a Tony Award winning composer and lyricist, and a Tony Award nominated actor. He is most famous for writing and starring in the Broadway musicals In the Heights and Hamilton.
He appears in the season 40 premiere of Sesame Street as real estate agent Freddy Flapman. He also voiced a lamb in Episode 4262 (which, in a tweet, he referred to as "Lamb-Manuel"),[1] and sang the theme song to the insert Murray Has a Little Lamb. In season 42, Miranda began composing songs for the show as well.
Miranda has also made several appearances on the 2009 revival of The Electric Company, and provided the translations for the 2009 revival of West Side Story.
Song credits
Sources
↑ @Lin_Manuel on Twitter October 12, 2011
External links