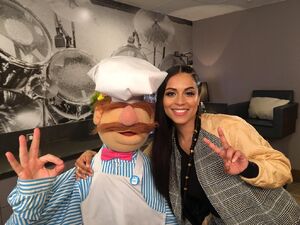 Lilly Singh (b. 1988) is a Canadian YouTube personality, vlogger, comedian, writer and actress. She is better known by her YouTube username IISuperwomanII. Since beginning her channel in October 2010, her videos have received over 1.8 billion views, and her channel has accumulated over 11 million subscribers. In 2016, she was ranked 3rd on the Forbes list of the world's highest paid YouTube stars (behind Roman Atwood and PewDiePie), earning a reported $7.5 million in 2016. Singh has featured in the annual YouTube Rewind video every year since 2014. She has received an MTV Fandom Award, three Streamy Awards, two Teen Choice Awards and a People's Choice Award.
In April 2017, Singh appeared with the Muppets at WE Day.
Ad blocker interference detected!
Wikia is a free-to-use site that makes money from advertising. We have a modified experience for viewers using ad blockers

Wikia is not accessible if you've made further modifications. Remove the custom ad blocker rule(s) and the page will load as expected.