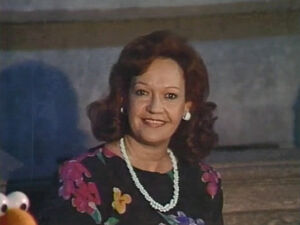 Lillian Hurst (b. 1943) is a Puerto Rican character actress who appeared on Sesame Street as Maria's mother, Mrs. Figueroa. Hurst was prominently featured in episode 2483 and 2574, and also appeared in Episode 2485.
Hurst has participated in over a dozen films, including A Million to Juan and Orange County. Her many TV guest appearances include spots on Arrested Development, NYPD Blue, The X-Files, The Nine, and ER. She has had recurring roles on Dharma and Greg (as the maid Celia) and Lost (as Carmen Reyes, Hurley's mother).
External Links
Ad blocker interference detected!
Wikia is a free-to-use site that makes money from advertising. We have a modified experience for viewers using ad blockers

Wikia is not accessible if you've made further modifications. Remove the custom ad blocker rule(s) and the page will load as expected.