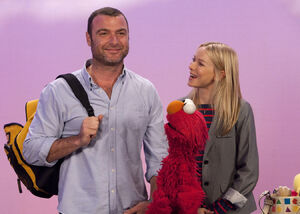 Isaac Liev Schreiber (b. 1967) is an American actor best known for the first three films in the Scream franchise.
Schreiber appeared on Sesame Street with his long time girlfriend Naomi Watts to explain the word "exchange" in a Season 42 Word of the Day segment.
Other film credits include X-Men Origins: Wolverine, Salt and a modern retelling of Hamlet. Television credits include guest appearances on CSI: Crime Scene Investigation, playing Orson Welles in the HBO movie RKO 281, and the 1996 remake of Neil Simon's The Sunshine Boys (with Sarah Jessica Parker and Peter Falk).
External links