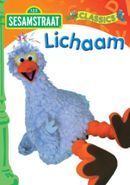 Lichaam (The Body) is a Sesamstraat DVD released in 2008, as part of Weton-Wesgram's Sesamstraat Classics collection.
Segments
Bulten
Goed voelen
Oma Jansen
1 gezicht
Monster (buurman baasje)
Wondjes tellen
Ienie's knutselclub: Ballonnenmannetje
Ernie's raadspel
De koning die altijd wat had
Professor Grover: bad tips
Mijn huid
Verkeerde oren
Prins Vads: wuifl es
Ad blocker interference detected!
Wikia is a free-to-use site that makes money from advertising. We have a modified experience for viewers using ad blockers

Wikia is not accessible if you've made further modifications. Remove the custom ad blocker rule(s) and the page will load as expected.