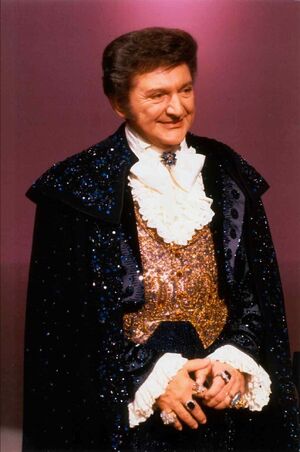 Wladziu Valentino Liberace (1919-1987) was a flashy and flamboyant concert pianist, and all-around entertainer. His trademarks were his glittery suits, and candelabras that were always placed on top of his pianos.
He was the guest star on The Muppet Show episode 309. He also appeared in the 1979 special The Muppets Go Hollywood.
Liberace was bestowed with many awards during his lifetime, including: Instrumentalist of the Year, Best Dressed Entertainer, Entertainer of the Year, two Emmy Awards, six gold albums, and two stars on the Hollywood Walk of Fame.
The Guinness Book of World Records listed him as the world's highest paid musician and pianist.
He opened the Liberace Museum in Las Vegas, Nevada, in 1978.
Liberace gave his last performance at New York's Radio City Music Hall, on November 2, 1986. He died of AIDS-related complications in 1987.
References
Sources
External links
Ad blocker interference detected!
Wikia is a free-to-use site that makes money from advertising. We have a modified experience for viewers using ad blockers

Wikia is not accessible if you've made further modifications. Remove the custom ad blocker rule(s) and the page will load as expected.