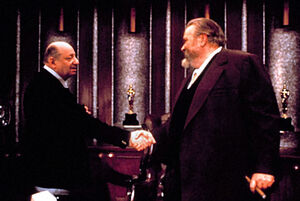 Lew Lord appears in The Muppet Movie. As president of World Wide Studios, Lord is the powerful movie mogul to whom Kermit the Frog travels in order to audition. Seemingly the embodiment of every intimidating Hollywood figure encountered on the road to success, Lord enables the film's happy ending by ordering his secretary to "prepare the standard 'Rich and Famous' contract for Kermit the Frog and Company."
An homage to Lord Lew Grade, the mogul who enabled Jim Henson to produce The Muppet Show, Lew Lord was played by Orson Welles, in his first acting role in two years.
Ad blocker interference detected!
Wikia is a free-to-use site that makes money from advertising. We have a modified experience for viewers using ad blockers

Wikia is not accessible if you've made further modifications. Remove the custom ad blocker rule(s) and the page will load as expected.