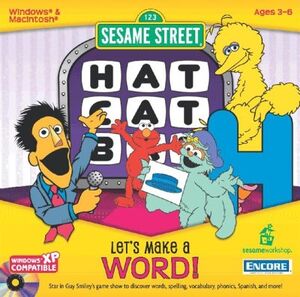 Let's Make a Word! is a 1995 Sesame Street CD-ROM game for home computers developed by Electronic Arts and Children's Television Workshop.
Guy Smiley welcomes users to his latest game show. Big Bird, Elmo, Oscar the Grouch, Rosita, Zoe and the Two-Headed Monster also appear. There are 6 different "word experts", and four locations filled with words, and over 300 words in this game to choose from.
The game was reissued by Creative Wonders, including as part of the 2-disc Kindergarten Deluxe CD-ROM set, and later by Encore Software with different packaging.
Releases
Screenshots
Contents
"Big Bird's Letter Identification": Help Big Bird find words.
"Elmo's Spin-n-Spell": Pick the right letter to build words.
"Oscar's Word Categories": Find words and make a mess.
"Rosita's Spanish Game": Match Spanish words and objects with Rosita.
"Zoe's Rhyme Time": Create rhymes with Zoe.
"Sound-It-Out": Match the first letter and word ending to create a word with the Two-Headed Monster.