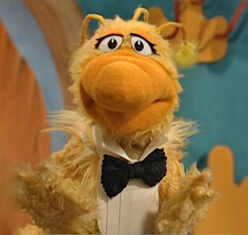 Lester is Terrence McBird's brother, who comes to visit in The Wubbulous World of Dr. Seuss episode "Lester Leaps In."
Lester is a neat freak and initially seems to dislike his brother. He grips about how he looks, dresses, and wonders "Why would anyone have a tree indoors?" He eventually overcomes his stuffy attitudes and starts to enjoying having a brother.
The same puppet was also used as a nameless extra in the first season episode "Mrs. Zabarelli's Holiday Baton."