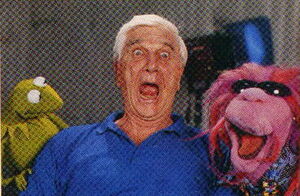 Leslie Nielsen (1926-2010) was an actor who began his career as a serious leading man in such films as Forbidden Planet, and played the doomed ship's captain in The Poseidon Adventure. However, beginning in 1980 with his deadpan turn as the doctor in Airplane!, Nielsen gained a new lease as a comedian, cemented with his starring role as Frank Drebin in the Police Squad! TV series and Naked Gun movies.
Nielsen appeared in Mr. Willowby's Christmas Tree as Baxter the butler. He also made a cameo appearance in Kermit and Miss Piggy's music video, "She Drives Me Crazy," punctuating the lyric "I can't help myself" by emitting faux-fart noises. This was achieved via the Handi-Gas, a whoopie cushion-style device which Nielsen carried with him on film sets and in talk show appearances; purportedly, the actor later upgraded to a remote controlled version.
External links
Ad blocker interference detected!
Wikia is a free-to-use site that makes money from advertising. We have a modified experience for viewers using ad blockers

Wikia is not accessible if you've made further modifications. Remove the custom ad blocker rule(s) and the page will load as expected.