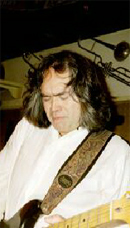 Lesley van der Lek performed various singing voices on Sesamstraat, the Dutch co-production of Sesame Street.
Van der Lek is a guitarist and singer, who came to Sesamstraat in the 1980s when Bill van Dijk, one of his band members and the Dutch voice of Roosevelt Franklin, invited him.
Until the 2000s, Van der Lek was one of the main singing voices in the American insert clips. He even took over Little Chrissy from Van Dijk.