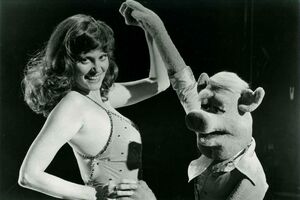 Lesley Ann Warren (b. 1946) is an American actress and singer. She was the guest star in The Muppet Show episode 315.
Warren first came to attention in the 1965 television performance of the Rodgers and Hammerstein musical Cinderella. In 1967, she appeared in the movie The Happiest Millionaire. She won a Golden Globe for the 1977 miniseries Harold Robbins' 79 Park Avenue, and was nominated for an Academy Award in 1982 for Victor/Victoria. In 1985, she played Miss Scarlett in the movie Clue.
External links
Ad blocker interference detected!
Wikia is a free-to-use site that makes money from advertising. We have a modified experience for viewers using ad blockers

Wikia is not accessible if you've made further modifications. Remove the custom ad blocker rule(s) and the page will load as expected.