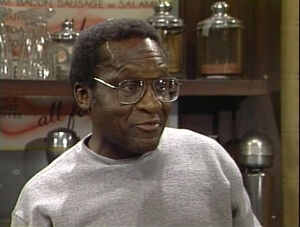 Leonard Jackson (February 7, 1928 - December 22, 2013) played Mr. Handford on Sesame Street during Season 21. Like other Sesame Street cast members, he sometimes played character roles in other skits, such as a grocer in a Wanda the Word Fairy segment.
Following his Sesame Street stint, Jackson played Harry Cupper on the PBS series Shining Time Station from 1990 to 1991 (a show that Gerry Parkes had a recurring role on as Barton Winslow). Other TV credits include guest spots on The Cosby Show, Law & Order, Homicide: Life on the Street, Square One TV (in the "Mathnet" serial "The Case of the Mystery Weekend"), Kojak, and The Jeffersons. Film credits include Car Wash (with Richard Pryor), The Color Purple, Rage in Harlem (with Gregory Hines), Boomerang (with Eddie Murphy), and Conspiracy Theory (with Mel Gibson).
External links
Ad blocker interference detected!
Wikia is a free-to-use site that makes money from advertising. We have a modified experience for viewers using ad blockers

Wikia is not accessible if you've made further modifications. Remove the custom ad blocker rule(s) and the page will load as expected.