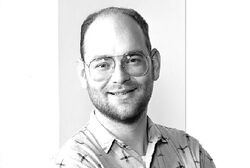 Leo van der Goot (b. 1950) is a Dutch disc jockey, newsreader, producer, and director. From 1988 to 1998 he was part of the team of directors that work on Sesamstraat, the Dutch co-production of Sesame Street, and Het klokhuis (literally 'The apple core'), a longrunning educational show for kids. Sesamstraat colleagues like Frank Groothof, Aart Staartjes and Monique Hagen worked with him on Het klokhuis as well.
Van der Goot's non-Henson work includes DJing for offshore radio station Radio North Sea International (alongside Alfred Lagarde), producing documentaries, and directing comedy shows like Niemand de deur uit! for commercial television station RTL 4. He also served as the president of RTL.
Ad blocker interference detected!
Wikia is a free-to-use site that makes money from advertising. We have a modified experience for viewers using ad blockers

Wikia is not accessible if you've made further modifications. Remove the custom ad blocker rule(s) and the page will load as expected.