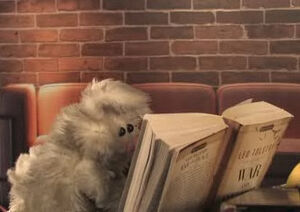 Leo Tolstoy (1828-1910) was a Russian writer, best known for his novels War and Peace and Anna Karenina.
References
In a 2004 episode of Sesame Street, Gabi shows Cookie Monster she's reading Anna Karenina for school. Cookie comments, "Tolstoy? Tolstoy not cookie. Toll House cookie!"
Karina the Ballerina's name is a take on Rodion Konstantinovich Shchedrin's 1971 ballet of Leo Tolstoy's Anna Karenina.
A 2014 episode of Sesame Street features a Russian pogo-sticker named Anna Karenina.