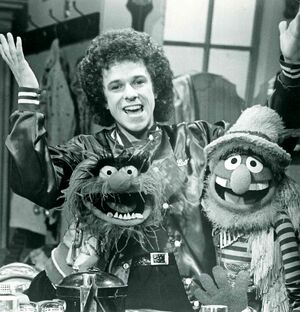 Leo Sayer (b. 1948) is a British pop singer who guest starred on The Muppet Show episode 302.
He scored two #1 hits on the Billboard singles chart in 1977, "You Make Me Feel Like Dancing" and "When I Need You", both of which he performed on The Muppet Show.
Sayer also appeared on The Tonight Show when Kermit the Frog hosted, and sang a duet of "When I Need You" with Miss Piggy.
External links
Ad blocker interference detected!
Wikia is a free-to-use site that makes money from advertising. We have a modified experience for viewers using ad blockers

Wikia is not accessible if you've made further modifications. Remove the custom ad blocker rule(s) and the page will load as expected.