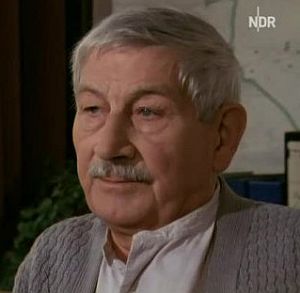 Leo Bardischewski (1914-1995) was a German voice actor who dubbed Uncle Traveling Matt on Die Fraggles, the German co-production of Fraggle Rock. Bardischewski dubbed both existing episodes as well as new material (with Uncle Matt operated by Siegfried Böhmke). He also dubbed Señor Wences in Die Muppet Show (The Muppet Show).
Bardischewski was active in German television and film from the 1960s onwards. As a voice actor, he was usually heard as elderly eccentrics or gentle statesmen, dubbing Fred Astaire in Finian's Rainbow and The Towering Inferno, John Gielgud in Appointment with Death and First Knight, Desmond Llewellyn as Q in The Spy Who Loved Me, John Bluthal in The Mouse on the Moon, Richard Vernon in The Pink Panther Strikes Again, and exasperated foil James Finlayson in the 1970s dubs of Laurel and Hardy shorts and features.
Television dubbing included many guest roles on Star Trek and Doctor Who and Peter Swanwick as the bald supervisor on The Prisoner. In animation, he was heard as Getafix in two Asterix films, the Mad Hatter in the Alice in Wonderland anime, and old Urobe in Vicky the Viking.