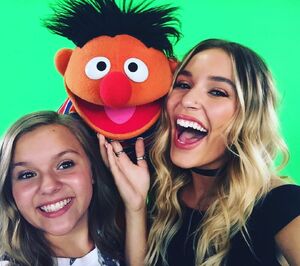 Lennon & Maisy, separately known as sisters Lennon Stella (b. 1999) and Maisy Stella (b. 2003), are a Canadian music duo known for their featured roles as Maddie and Daphnie Conrad on the ABC series Nashville.
The duo participated in Sesame Street's "Love to Learn" campaign for "Music and Dancing" month in October 2016. They appeared with Ernie in a live chat on Billboard's Facebook page on July 7th, and recorded a cover of "I Don't Want to Live on the Moon" which was released on October 5th.
External links
Ad blocker interference detected!
Wikia is a free-to-use site that makes money from advertising. We have a modified experience for viewers using ad blockers

Wikia is not accessible if you've made further modifications. Remove the custom ad blocker rule(s) and the page will load as expected.