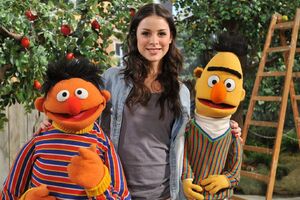 Lena Meyer-Landrut (b. 1991), known simply as Lena, is a German singer, 2010 Eurovision Song Contest winner, and 2011 German Eurovision representative.
Along with Ernie, she performed "Bert, oh Bert," a parody of her winning entry "Satellite." The 2011 video also features an appearance of Bert, and the first exclusive cameo appearance of The Martians on the country's co-production.
Beginning with season 40 in 2013, Landrut provides the vocals for the updated version of the Sesamstrasse theme song.
Notes
Incidentally, the artist's namesake, Muppet monster baby Lena, was also a character on Sesamstrasse.
External links
Ad blocker interference detected!
Wikia is a free-to-use site that makes money from advertising. We have a modified experience for viewers using ad blockers

Wikia is not accessible if you've made further modifications. Remove the custom ad blocker rule(s) and the page will load as expected.