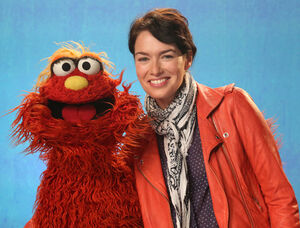 Lena Headey (b. 1973) is a British actress, known for playing Cersei Lannister in HBO's Game of Thrones (alongside Peter Dinklage). She appeared on Sesame Street in a Word of the Day segment for season 44 (2013). In 1998, she played Guinevere in the Creature Shop-effects TV movie Merlin.
Headey starred as Sarah Connor in Terminator: The Sarah Connor Chronicles. UK TV credits include guest roles on Ballykissangel, Spender, and Kavanagh QC. Film credits include The Jungle Book (with John Cleese), Mrs. Dalloway (with Vanessa Redgrave), The Brothers Grimm, and 300.
External links
Ad blocker interference detected!
Wikia is a free-to-use site that makes money from advertising. We have a modified experience for viewers using ad blockers

Wikia is not accessible if you've made further modifications. Remove the custom ad blocker rule(s) and the page will load as expected.