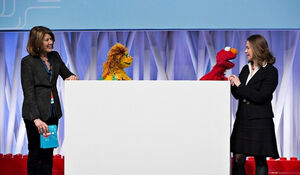 Lego is a brand of construction toys made by The Lego Group in Denmark since 1949.
On April 13, 2016, The Lego Foundation, Lego's research division, partnered with Sesame Workshop to promote its learning through play initiative. As described in a press release, "the partnership includes two separate initiatives focused on unlocking the power of play to create transformative, hands-on learning experiences."[1]
The first initiative consists of the distribution of Lego materials to educators and caregivers in South Africa as part of Takalani Sesame outreach kits. Sesame Workshop's Sherrie Westin said that they would "bring together the power of our Muppets with the hands-on learning tool of Duplo bricks."[2]
The second initiative, "designed to shift parent and caregiver perceptions about the educational value of play," will launch in India and Mexico as well as South Africa. A series of community events held in urban areas of these countries are aimed at developing a better understanding of the importance of play and how it may be integrated into the lives of children.
The announcement was made at the 2016 Lego Idea Conference in Billund, Denmark. Kami and Neno were in attendance and shared the stage with presenters Sherrie Westin (Sesame Workshop's Executive Vice President of Global Impact and Philanthropy), Mirjam Schöning (Global Head, Programs and Partnerships at LEGO Foundation), Hanne Rasmussen (CEO of The LEGO Foundation), and Philip A. Fisher (Professor of Psychology and Research Scientist at the Prevention Science Institute Center for Translational Neuroscience at the University of Oregon).
Connections
See also
External links
Sources
↑ "Sesame Workshop and the LEGO Foundation announce new partnership to promote children's learning through play" April 13, 2016 Press Release
↑ vimeo.com/legofoundation "Quick recap of the second conference day, the 2016 LEGO Idea Conference" (at 2 minutes, 30 seconds) April 14, 2016