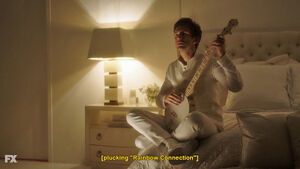 Legion is a TV series that premiered on the FX network in 2017. The series stars Dan Stevens (Downton Abbey, Beauty and the Beast) as a man who has been diagnosed with schizophrenia for his entire life, but ultimately learns that he's actually a mutant with superhuman abilities.
Muppet Mentions
In "Chapter 5", David Haller (Stevens) transports his girlfriend Sydney to a construct of his mind where he's hiding from a powerful being that has possessed a part of his consciousness. To signal that he and Sydney are not alone, David sits on the bed with a banjo and sings a verse of "The Rainbow Connection"; the lyric "and what's on the other side" an allusion to the location of his mind monster.
Connections
Ad blocker interference detected!
Wikia is a free-to-use site that makes money from advertising. We have a modified experience for viewers using ad blockers

Wikia is not accessible if you've made further modifications. Remove the custom ad blocker rule(s) and the page will load as expected.