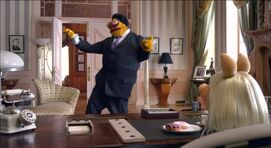 Legacy Effects is a special effects company located in San Fernando, California. They provide practical effects for feature films, commercials, and television shows. Some of their feature film contributions include Avatar, Terminator Salvation, 2012, Shutter Island, Real Steel, and Disney's John Carter. They also designed and built '80s Robot and designed and fabricated the "Muppet Man" effects for The Muppets.
External Links
Ad blocker interference detected!
Wikia is a free-to-use site that makes money from advertising. We have a modified experience for viewers using ad blockers

Wikia is not accessible if you've made further modifications. Remove the custom ad blocker rule(s) and the page will load as expected.