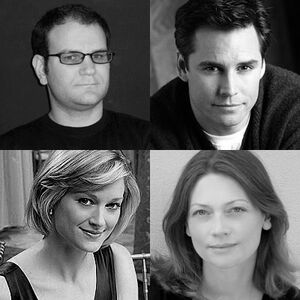 Legacy is a 1997 pilot created by Javier Grillo-Marxuach and produced by the Jim Henson Company for NBC. Originally titled The Van Helsing Chronicles, the series was to have been a supernatural adventure focusing on Christian Van Helsing, a young Cambridge professor and descendant of the original Van Helsing from Bram Stoker's Dracula. The pilot starred Dan Gauthier as Van Helsing, with Teri Polo and Sophie Ward as other regulars. The script was written by Grillo-Marxuach and Brian Henson, among others.
The pilot, completed by spring 1997, was originally shelved. However, NBC's fall series Sleepwalkers (starring Bruce Greenwood) received uniformly bad ratings, leading to its cancellation after two broadcasts in November of 1997. To fill the gap, various trade magazines announced that the Van Helsing series would take its place (now officially retitled Legacy): "NBC has promoted its Saturday lineup as an all-paranormal slate. In backup, the network has ordered six scripts on "Legacy" (formerly "Van Helsing Chronicles") from Jim Henson Prods. and NBC Studios..." Rumors at Ain't It Cool News implied that the series was being reworked and the pilot redone, but neither the original pilot nor a series version ever actually aired.
External links
Ad blocker interference detected!
Wikia is a free-to-use site that makes money from advertising. We have a modified experience for viewers using ad blockers

Wikia is not accessible if you've made further modifications. Remove the custom ad blocker rule(s) and the page will load as expected.