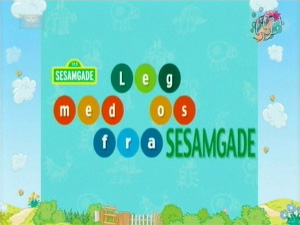 Leg med os fra Sesamgade is the 2009 Danish dub of Play With Me Sesame. Episodes are used as segments for the 2nd Danish Sesame Street co-production Sesamgade.
Translations and Voices
Additional Voice Actors
Mathilde Kaysen
Silas Phillipson
Additional credits
Sound studio: Dubberman
Translation: Tekstkontoret
Production coordinator: Mille Lykke Sørensen
Dub engineer: Susanne Roslev, William Dion, John Strandskov, Karsten Dines and Christian Rohs
Mix engineer: Hamid Hagh
Dubbing director: Susanne Roslev and Jens Jacob Tychsen
Ad blocker interference detected!
Wikia is a free-to-use site that makes money from advertising. We have a modified experience for viewers using ad blockers

Wikia is not accessible if you've made further modifications. Remove the custom ad blocker rule(s) and the page will load as expected.