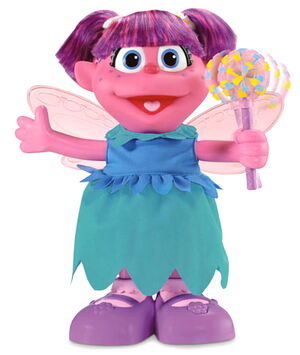 Learn to Fly Abby Cadabby is a Sesame Street toy featuring fairy in training Abby Cadabby. When Abby's magic wand is touched, it lights up as Abby casts a spell to make her fly. With a second touch, Abby's wings begin to flap, and her wand glows brighter. With the third touch, Abby's wings flap faster, her wand and wings light up, and she goes up on her toes to enjoy her first flight.
The toy was produced in 2008 by Fisher-Price.
Ad blocker interference detected!
Wikia is a free-to-use site that makes money from advertising. We have a modified experience for viewers using ad blockers

Wikia is not accessible if you've made further modifications. Remove the custom ad blocker rule(s) and the page will load as expected.