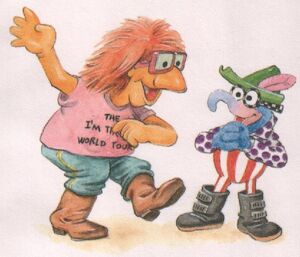 Leapin' Lenny is the lead singer of the Rock Band "Leapin' Lenny and the Jet Lag", whose hits include "Thirty Thousand Feet and Climbing". He appears in the short story Clothes Make the Gonzo, where he comes backstage after watching a show at The Muppet Theatre. Gonzo wore an outlandish outfit for his skit in the show, and Lenny was so in awe of the outfit that he asks to swap clothing with Gonzo so he can wear the ensemble for his concert the following night. As part of the swap, Gonzo received an "I'm Tired World Tour" T-shirt, and tickets for the entire gang to see the show.
Ad blocker interference detected!
Wikia is a free-to-use site that makes money from advertising. We have a modified experience for viewers using ad blockers

Wikia is not accessible if you've made further modifications. Remove the custom ad blocker rule(s) and the page will load as expected.