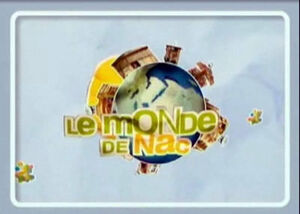 Le Monde de Nac (Nac's World) is a recurring 5, Rue Sésame segment hosted by Nac. In each segment, Nac reads a child's question about the traditions and cultures from certain countries and Nac answered by showing a live action film from his computer. After a brief film shot on location, Nac comments on how much he likes that video before signing off.
The segment is the French Sésame version of the American segment "Global Grover", even using some films used in Global Grover segments.
See also
External links
Ad blocker interference detected!
Wikia is a free-to-use site that makes money from advertising. We have a modified experience for viewers using ad blockers

Wikia is not accessible if you've made further modifications. Remove the custom ad blocker rule(s) and the page will load as expected.