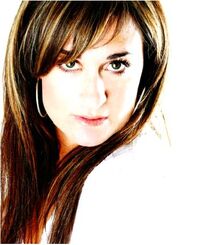 Laura Vlasblom (b. 1968) is a Dutch singer and voice actress, best known for her 1980s girl band Frizzle Sizzle. On Sesamstraat (the Dutch co-production of Sesame Street), she dubbed Ruby Monster, as well as animated insert characters and singing roles.
Vlasblom's other dubbing credits include Barbie in various projects, Jasmine in Disney's Aladdin, and Granny and Lola Bunny in Space Jam.
External links
Ad blocker interference detected!
Wikia is a free-to-use site that makes money from advertising. We have a modified experience for viewers using ad blockers

Wikia is not accessible if you've made further modifications. Remove the custom ad blocker rule(s) and the page will load as expected.