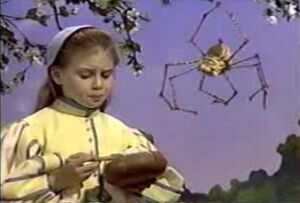 Laura Goodwin is a former child actress who appeared in multiple episodes of Mother Goose Stories. She played the title character in "Little Miss Muffet," the princess in "Dicky Birds," and Stella in "Twinkle, Twinkle, Little Star." Her brother, James Goodwin, also appeared on the series.
Goodwin played one of the two child leads in the 1987 film Crystalstone and appeared in the TV movies Sun Child (with James Fox), The Shell Seekers, and episodes of The Bill, The Two of Us (with Nicholas Lyndhurst), and the miniseries Christabel.
External links
Ad blocker interference detected!
Wikia is a free-to-use site that makes money from advertising. We have a modified experience for viewers using ad blockers

Wikia is not accessible if you've made further modifications. Remove the custom ad blocker rule(s) and the page will load as expected.