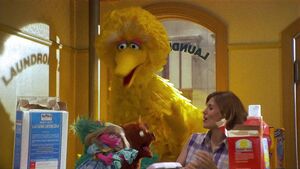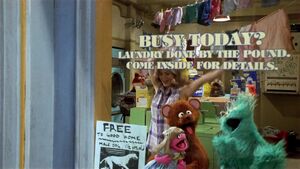 The Sesame Street laundromat is a place on Sesame Street where its residents can do their laundry. The location features prominently at the beginning of The Adventures of Elmo in Grouchland during the last half of the song "Together Forever." At this time, the laundromat was located across the street from 123 Sesame Street.
Beginning with Season 39 of Sesame Street, the laundromat has been moved next to Hooper's Store,[1] where Leela serves as its proprietor. Since Leela's departure following season 45, the Laundromat has been seen the care of Nina (Episode 4602) and an Anything Muppet man performed by Peter Linz (Episode 4822).
Illustrated appearances
In the "Big Bird and the Lost Bear" story from Cookie Soup and Other Good-Night Stories, the laundromat was named the Wash and Dry Laundromat where Big Bird finds Granny Bird giving Radar a bath.
Sources