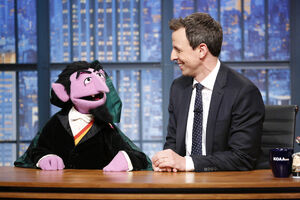 Late Night with Seth Meyers is a talk show hosted by Seth Meyers that airs on NBC. The fourth incarnation of NBC's Late Night franchise, Meyers show debuted in February 2014 after previous host Jimmy Fallon left Late Night to host the The Tonight Show.
Appearances
March 26, 2015 - Count von Count appeared to present the regular "This Week in Numbers" segment with Meyers. (YouTube)
Mentions
On the episode of June 11, 2014, Meyers performed a bit called "Late Night Trading Cards," where Meyers opened packs of humorous trading cards and shared the statistics on the back (much like a sports card) with the audience. One pack was a "Pig Pack," which featured famous fictional pigs. The final card in the stack featured Miss Piggy. The statistics read: "Hair Color: Blonde. Eye Color: Blue. Favorite Color: Pink. Sexual Preference: Green."
On the episode of February 5, 2016, The Muppets was featured in the segment "Hidden Credits," where a fake credit on the show read "Hand Accommodations provided by Kermit's Ass."
On the July 20, 2017 episode, in his recurring "A Closer Look" segment, Meyers described former FBI Director Robert Mueller as looking "like Sam the Eagle's human son". He then explained, "That's right; what I am saying is that Sam the Eagle had sex with a human woman."
Connections
Fred Armisen is the leader of The 8G Band, the show's house band.