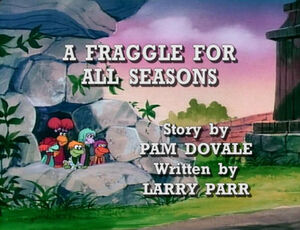 Larry Parr is a writer who scripted two episodes of the animated version of Fraggle Rock.
Parr wrote extensively for television animation. He wrote, and often story edited, for the Marvel series Spider-Man, G.I. Joe, The Transformers, Defenders of the Earth, Dino-Riders, and The Inhumanoids, as well as the pilot Pryde of the X-Men and the later X-Men series. Parr's other credits included The Smurfs, The Monchichis, The Get-Along Gang, Teenage Mutant Ninja Turtles, Heathcliff, Peter Pan and the Pirates, and Beetlejuice.
Writing credits
Ad blocker interference detected!
Wikia is a free-to-use site that makes money from advertising. We have a modified experience for viewers using ad blockers

Wikia is not accessible if you've made further modifications. Remove the custom ad blocker rule(s) and the page will load as expected.