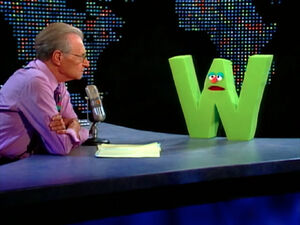 Larry King (b. 1933) hosted the cable talk show, Larry King Live from 1985 to 2010.
On December 23, 1993, King interviewed Kermit, Miss Piggy, Cheryl Henson and Frank Oz, as a promotion for Jim Henson: The Works. During the appearance, King offered Kermit a spot guest hosting the show on April Fools Day.
Kermit did the guest hosting spot on April Fools Day, 1994. He interviewed Ted Koppel, Hulk Hogan, Carol Alt, David Gergen and Socks the Cat.
King made a cameo appearance on Muppets Tonight in Episode 103 (March 22, 1996), where he tried to convince Bobo the Bear to let him through the door.
On December 24, 1996, King had Johnny Fiama and Sal Minella on his Christmas Eve episode.
King contributed a "Favorite Tuna Health Salad" recipe for Miss Piggy's 1996 cookbook, In the Kitchen with Miss Piggy.
He has also appeared on the Sesame specials The Street We Live On and All-Star Alphabet.
In 2004, he appeared on Episode 4079 of Sesame Street, interviewing a W on the set of Larry King Live.
External links
Ad blocker interference detected!
Wikia is a free-to-use site that makes money from advertising. We have a modified experience for viewers using ad blockers

Wikia is not accessible if you've made further modifications. Remove the custom ad blocker rule(s) and the page will load as expected.