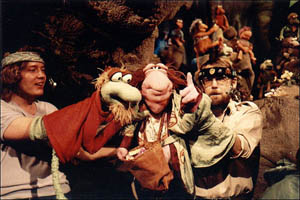 Large Marvin is the fattest Fraggle in Fraggle Rock, due to his love of snacking. He is a bit dimwitted, but is also athletic and a feared swimming opponent of Red Fraggle.
His first appearance was in the Fraggle Rock episode "The Beast of Blue Rock."
Large Marvin Fraggle made a non-speaking cameo in A Muppet Family Christmas during the "Pass It On" number.
In Muppets Tonight, Large Marvin was later seen as an audience member.
Filmography
Ad blocker interference detected!
Wikia is a free-to-use site that makes money from advertising. We have a modified experience for viewers using ad blockers

Wikia is not accessible if you've made further modifications. Remove the custom ad blocker rule(s) and the page will load as expected.