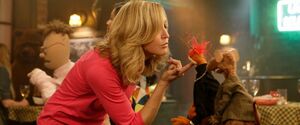 Lara Spencer (b. 1969) is an American television journalist. She is best known for being the co-anchor for ABC's Good Morning America. She is also a correspondent for Nightline and ABC News.
Spencer has appeared alongside many Muppets (both of the Muppets and the Sesame Street Muppets) during their numerous appearances on Good Morning America.
Spencer also appeared as herself at Rowlf's Tavern in The Muppets episode "Little Green Lie."
External links
Ad blocker interference detected!
Wikia is a free-to-use site that makes money from advertising. We have a modified experience for viewers using ad blockers

Wikia is not accessible if you've made further modifications. Remove the custom ad blocker rule(s) and the page will load as expected.