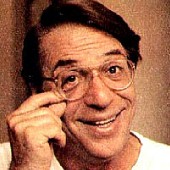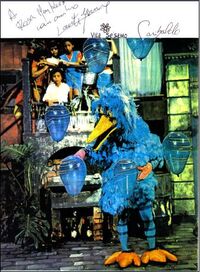 Laerte Morrone (1934—2005) was born in São Paulo, the son of the sculptor Luís Morrone. In his younger years, he began in the amateur theater as a pianist. He later tried to enter the School of Dramatic Art, without success.
After four years working in Europe in the 1970's, he returned to Brazil where he began a succesful career in theater and afterwards on television. He was also the first person to perform the role of Garibaldo in the Brazilian version of Vila Sésamo which ran from 1972 until 1977 on TV Globo.
Morrone passed away in the Hospital São Paulo, a victim of pulmonary complications after gall bladder surgery. He was buried in the Cemetery of the Araçá.
Ad blocker interference detected!
Wikia is a free-to-use site that makes money from advertising. We have a modified experience for viewers using ad blockers

Wikia is not accessible if you've made further modifications. Remove the custom ad blocker rule(s) and the page will load as expected.