Ad blocker interference detected!
Wikia is a free-to-use site that makes money from advertising. We have a modified experience for viewers using ad blockers

Wikia is not accessible if you've made further modifications. Remove the custom ad blocker rule(s) and the page will load as expected.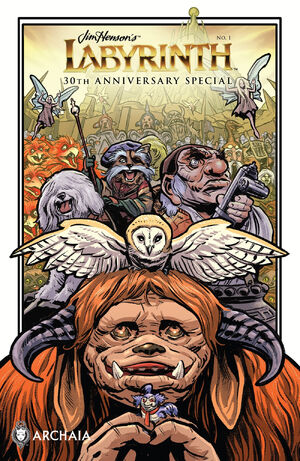 The Labyrinth 30th Anniversary Special is a comic book special that was released in August 2016 to celebrate the theatrical release of Labyrinth on its 30th Anniversary. The comic features seven stories by different artists told over the course of 48 pages.
Stories
"Gone Fishing" by Gustavo Duarte
"Wisdom & Idioms" by Cory Godbey
"Stone Cold" by Cory Godbey
"Rock Solid Friendship" by Adam Smith (story) & Kyla Vanderklugt (art)
"Hoggle and the Worm" by Ted Naifeh and Adiranne Ambrose (story) & Cory Godbey (art)
"Humongous Two" by Jonathan Case (story) & Daniel Bayliss (art)
"Sir Didymus' Grand Day" by Cory Godbey
See also
External links