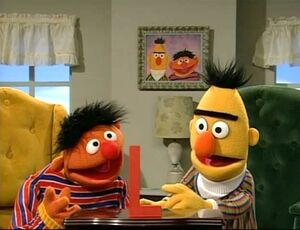 "La, La, La" is a Sesame Street song sung by Ernie and Bert.
In the sketch, Bert is standing behind a wall with a letter L, wondering what he can do with it, when Ernie suggests that he can sing a "La, La, La" song. Ernie sings about a lot of fun words while Bert sings about a lot of dull words.
The sketch was later remade with new puppetry performed to the original soundtrack. (First: Episode 3841) Bert and Ernie have also performed this song on The Dick Cavett Show.
Barenaked Ladies recorded a version of this song for the 2002 album For the Kids called "La La La La Lemon."
Notes
Releases
Audio
Video
Online
Publications
See also
Ad blocker interference detected!
Wikia is a free-to-use site that makes money from advertising. We have a modified experience for viewers using ad blockers

Wikia is not accessible if you've made further modifications. Remove the custom ad blocker rule(s) and the page will load as expected.