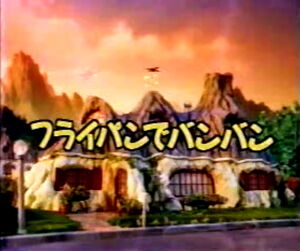 Kyouryuu Kazoku (恐竜家族) was the Japanese language dub of Dinosaurs. The literal English translation of 恐竜家族 is "dinosaur family". The title card appeared at the beginning of the program, and was followed by the original opening credits, complete with the original title Dinosaurs.
Audio format
The Japanese version of the program was broadcast in both the original English language and a Japanese language dub. The viewer could change between either language by setting their TV to use either only the left or the right stereo audio channel. If the TV was set to the normal stereo setting (with both the left and right channels enabled) both the English and Japanese language versions would be heard simultaneously.
Ad blocker interference detected!
Wikia is a free-to-use site that makes money from advertising. We have a modified experience for viewers using ad blockers

Wikia is not accessible if you've made further modifications. Remove the custom ad blocker rule(s) and the page will load as expected.