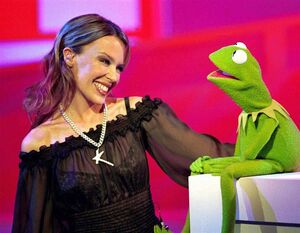 Kylie Minogue (b. 1968) sang "Especially for You" as a duet with Kermit the Frog in her 2001 special An Audience with Kylie Minogue. During the performance she told Kermit that the duet was a lifelong dream come true. (YouTube)
Minogue is also mentioned in Kermit's book Before You Leap, describing a scenario in which Kermit, Kylie, Cindy Crawford, and the Sports Illustrated swimsuit models wind up in a compromising position with grapes, attracting the ire of Miss Piggy.
External links
Ad blocker interference detected!
Wikia is a free-to-use site that makes money from advertising. We have a modified experience for viewers using ad blockers

Wikia is not accessible if you've made further modifications. Remove the custom ad blocker rule(s) and the page will load as expected.