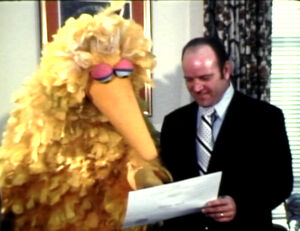 Kyle Testerman (1934 - 2015) was the former mayor of Knoxville, Tennessee on two separate occasions (from 1972 to 1975, and from 1984 to 1987).
In 1973, Testerman had a press meeting with Big Bird in his offices. As the two chatted, Testerman signed an official document making Big Bird an honorary citizen of Knoxville.[1]
Sources
Ad blocker interference detected!
Wikia is a free-to-use site that makes money from advertising. We have a modified experience for viewers using ad blockers

Wikia is not accessible if you've made further modifications. Remove the custom ad blocker rule(s) and the page will load as expected.