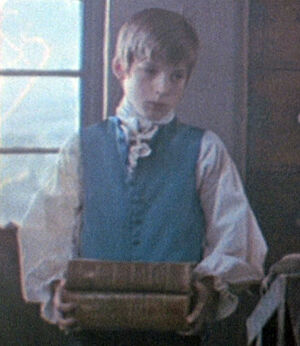 Kristopher Milnes (b. 1980) is an actor who, as a child performer, briefly played young Scrooge as a child in The Muppet Christmas Carol.
As a child and adolescent, Milnes appeared on Jeeves & Wooster, As Time Goes By, Casualty, and in the TV movies Jewels and The Treasure Seekers. He was a regular on the 1995 series Stick With Me, Kid (with John Gielgud). Credits as an adult include a 2006 independent film version of Measure for Measure, an appearance on My Family, and voice work in animated features (Valiant, Postman Pat: The Movie), video games, and film ADR.
External links
Ad blocker interference detected!
Wikia is a free-to-use site that makes money from advertising. We have a modified experience for viewers using ad blockers

Wikia is not accessible if you've made further modifications. Remove the custom ad blocker rule(s) and the page will load as expected.