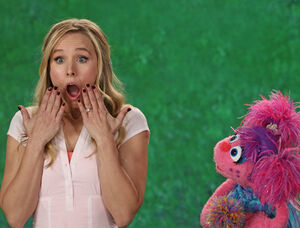 Kristen Bell is an actor best known for playing the title character on Veronica Mars. She played a recurring role on NBC's Heroes, voiced Hiromi in the English-dubbed version of Studio Ghibli's The Cat Returns, and featured in Forgetting Sarah Marshall with Mila Kunis and Jason Segel. She also voiced Anna in Disney's Frozen.
She appears in Sesame Street Episode 4316, demonstrating the word "splatter" with Abby Cadabby and Elmo.
In November 2013, the Facebook page for Takalani Sesame recorded a segment with Bell, supporting their World AIDS Day campaign. The video references, but doesn't show, Kami.[1]
Bell also appeared Lady Gaga & the Muppets' Holiday Spectacular and Disneyland 60.