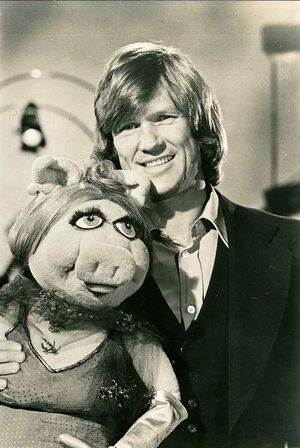 Kris Kristofferson (b. 1936) is an American country singer-songwriter and actor. He was married to Rita Coolidge from 1973 to 1980, during which time they guest starred together on episode 301 of The Muppet Show.
His hits include the self-penned "Help Me Make It Through the Night" (which he sang with Miss Piggy), "Me and Bobby McGee," and "Sunday Morning Coming Down." His film credits include Pat Garrett & Billy the Kid, A Star is Born, Lonestar, Tim Burton's 2001 remake of Planet of the Apes, and the Blade movies.
Kristofferson was a member of country supergroup The Highwaymen with Johnny Cash, Willie Nelson, and Waylon Jennings during the late 1980s. He was inducted into the Country Music Hall of Fame in 2004.
External links
Ad blocker interference detected!
Wikia is a free-to-use site that makes money from advertising. We have a modified experience for viewers using ad blockers

Wikia is not accessible if you've made further modifications. Remove the custom ad blocker rule(s) and the page will load as expected.